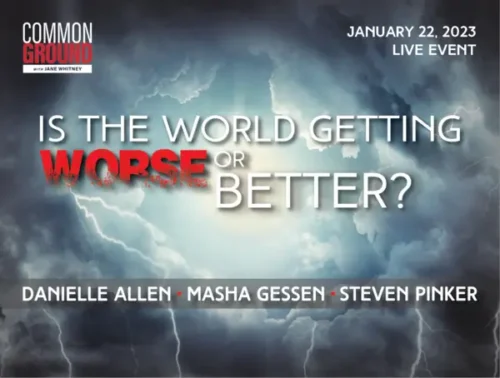 January 22, 2023
Is the World Getting Worse or Better?
2016 officially was named The Worst Year Ever. Then came 2017. And 2018 and, finally, last year. That was the worst. Or so we thought until this year.
It's become more than a meme that the world is getting worse, going to hell in a handbasket. And yet, year by year statistics show life is improving for most people around the world.
More of us live better than ever before – even if few of us believe the good news. The disconnect between the spreading sunlight of progress and most people's growing gloom is creating a toxic political environment and undermines democratic norms, paving the way for autocracy and plutocracy. In its tenth forum, Common Ground will explore the schism between the way we are and how we think of the world.
* Private Reception & Dinner ticket sales close Wednesday, January 11th *
GENERAL ADMISSION REGISTRATION
Please note: Season Pass Holders & Sponsors do not reserve seats here.
Private Reception & Dinner Tickets
Join our host Jane Whitney and available in person panelists at the Mayflower Inn & Spa following the show.
* Private Reception & Dinner tickets are available for purchase during registration *