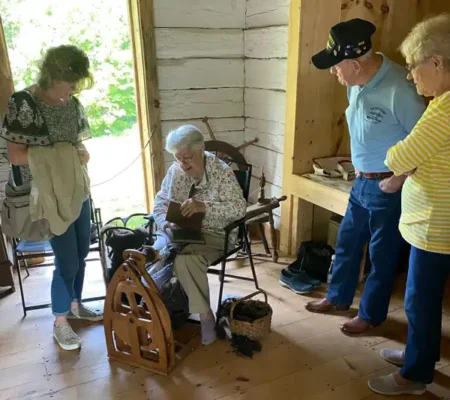 September 22, 2023
Historic Trades Demonstration
The Eric Sloane Museum will join the activities offered during the Fall Festival at the Connecticut Antique Machinery Association (CAMA) with special demonstrations by historic tradespeople during the weekend of Sept. 22 through 24 from 10 a.m. to 4 p.m. each day.
There will be a variety of historic trades demonstrations over the three days. Visitors are also encouraged to visit the Early American Hand Tools Gallery, and the Art Gallery featuring original oil paintings and pen and ink works by Eric Sloane, as well as seeing the recreated art studio that is full of Sloane's personal items. On the museum grounds is a recreation of a pioneer cabin, funded and built through the efforts of the Friends of the Eric Sloane Museum, which was originally constructed for the museum to illustrate the one described by Noah Blake in Diary of an Early American Boy, an 1805 diary published by Sloane. Also on the grounds is the Kent Iron Furnace, which is an 1826 granite blast furnace with Gothic arches that was used to produce pig iron for almost 70 years and is now listed on the National Register of Historic Places.
Admission will be by donation to the Eric Sloane Museum all weekend long. There is a separate admission to CAMA's 38th Annual Fall Festival. Additional information about CAMA's Festival ticket rates is available at: http://www.ctamachinery.com/2012-fall-festival/
Both organizations are located at 31 Kent Cornwall Road in Kent.
Eric Sloane Museum
31 Kent Cornwall Rd
Kent, CT 06757
https://portal.ct.gov/DECD/Content/Historic-Preservation/04_State_Museums/Eric-Sloane-Museum-and-Kent-Iron-Furnace