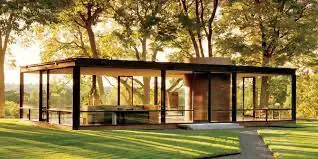 September 23, 2022
Glass House Day Trip
Join us for a Day Trip to the Glass House in New Canaan, CT on Friday, September 23rd!
The LCC Van will depart at 8AM
You will take an hour guided tour of the glass house at 9:45AM
The Glass House, or Johnson house, is a historic house museum on Ponus Ridge Road in New Canaan, Connecticut built in 1948-49. It was designed by architect Philip Johnson as his own residence. It has been called his "signature work"
After the tour we will go to lunch at a TBD location where you will be responsible for lunch on your own at 12:00pm after lunch we will make out way back to LCC!
Note: Reservations are non-refundable after purchase!
Friday, Sep 23, 2022
8:00 am – 3:30 pm
Cost: $35 per person
* Pre-Registration & Pre-Payment is Required
https://thecommunitycenter.org/event.php?id=14712
Litchfield Community Center
421 Bantam Road
Litchfield, CT 06759
860-567-8302
www.thecommunitycenter.org