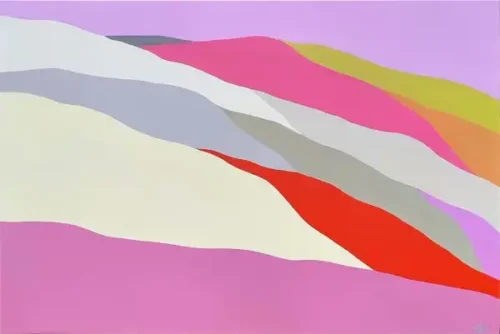 September 22, 2023
"Elements" Exhibit
Please join us at KMR Arts for Stephanie Lear Henderson's "Elements" Exhibit, September 22 – November 18 2023!
Stephanie Lear Henderson's paintings are about simplicity of form rendered in bold color combinations. Rather than a comples composition, the use of the simple forms allows the viewer to tap into the positive energy of bold colors. Disciplined shapes coexist with playful color combinations. As we know, color can influence human psychology, behavior and even health. Color affects how humans think and feel: red can signify passion whereas blue can suggest a more peaceful response. Science has shown the color can influence physical qualities such as appetite and energy. With each sequence, the colors take on different qualities: stronger vs. weaker, louder vs. softer, advancing vs. receding, depending on the relationship with the adjacent color. This work ultimately feels completely modern and yet has a distinct connection with the essence of abstract art: the principles of Josef Albers come to mind.
Stephanie Lear Henderson describes her work, "I try to let the colors do the talking. I love seeing how the colors communicate without putting too much of myself into the paintings."
"I am thrilled to welcome Stephanie's joyous, powerful work again to KMR Arts," says Kathy McCarver.
A native of Thomasville, Georgia, Stephanie Lear Henderson earned a B.A. from the University of Virginia and an M.A. from the University of Georgia. Her work has been exhibited in the United States and Canada. This is Lear Henderson's second solo exhibit at KMR Arts.
KMR Arts
2 Titus Rd, Washington Depot, CT 06794
Gallery Hours: Thursdays, Fridays, Saturdays 11am-5pm and by appointment
For more information or to schedule a visit please email [email protected] or call 917-856-9050
https://www.kmrarts.com