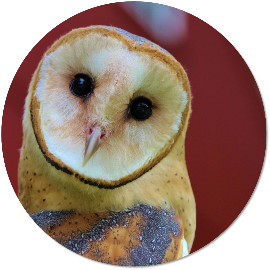 January 22, 2022
Children's "Owl Prowl" Birdwatching
Looking for a fun activity for the whole family this winter? Book a pass for the Children's Owl Prowl on Saturday, Jan 22. The evening will commence with a gathering around the campfire with a cup of hot cocoa and a reading of Jane Yolen's book, "Owl Moon". We'll then take a short walk down Duck Pond Road with our resident aviculturists who will show you how to summon these nocturnal creatures from the nighttime shadows. This activity is intended for ages 5-12 and their parent(s). Appropriate winter clothing is recommended, as we will be outside for the duration. Owl sightings are not guaranteed because whoooooo can predict that??
Children's Owl Prowl will be held on Saturday, Jan 22, from 5:30-6:30 PM.
In case of inclement weather, the make-up date will be Saturday, Feb 5 from 5:30-6:30 PM.
This event is FREE to the public and limited to 20 participants. Reservations must be made in advance and they are on a first come – first served basis. Call us at: 860-567-2062 to register!
Ripley Waterfowl Conservancy
55 Duck Pond Road, Litchfield, CT 06759
https://www.ripleyconservancy.org/winter-events.html