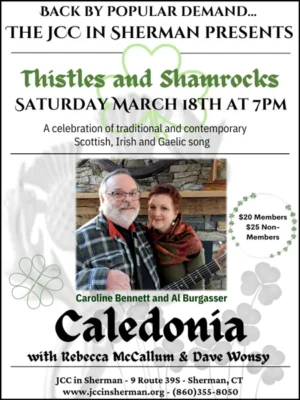 March 18, 2023
Caledonia at the JCCS!
Join us on Saturday March 18th at 7pm for the return of Caledonia : Thistles and Shamrocks featuring Caroline Bennett and Al Burgasser with special guests!
Caroline Bennett and Al Burgasser, both with family ties to Scotland, honor and share their heritage by performing Scottish and Irish music together as the duo Caledonia. They are excited to be joined this evening by Rebecca McCallum on fiddle and vocals, and Dave Wonsey on percussion.
Tonight's concert, Thistles and Shamrocks, highlights a collection of traditional and contemporary songs that span the centuries and tell the stories of the people, their lives, and the traditions that define these two countries.
Caroline will share her original compositions in Gaelic – currently being featured on the BBC Radio nan Gàidheal – as well as ancient Gaelic songs of the sea and songs that tell of the lives of working people. Enjoy haunting melodies, toe-tapping mouth music, songs of longing and exile, and humorous ballads and stories.
Together, Caroline and Al bring rich harmonies and a special connection to the music that they love, enhanced by the fiddle and drumming contributions from our award winning guest performers.
JCC in Sherman
9 Route 39S
Sherman, CT 06784
https://www.jccinsherman.org/upcomingevents/caledonia-thistles-shamrocks-featuring-caroline-bennett-al-burgasser