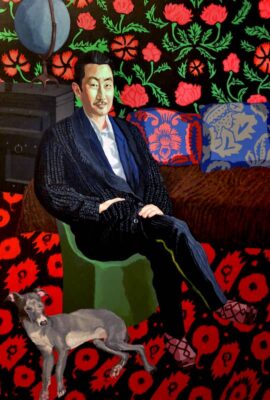 BRUNO LEYDET 'Portrait de Juno etc Lloyd', 2017. Acrylic on canvas. 72" by 48"
Dec 12, 2020 – Feb 28, 2021
Bruno Leydet at Craven Contemporary
Craven Contemporary is excited to announce the opening of its new show "Bruno Leydet" on December 12th with 14 works by the artist including three large scale works on the long gallery wall. This is Bruno's first solo show in the USA and will run through the end of February.
Bruno was born and raised in Montreal, Canada. He received his Bachelor of Fine Art at Concordia University in Montreal and his Master of Fine Arts at New York University. After spending time in New York, Paris and Mexico City, Bruno again lives in Montreal where he focuses on his painting practice.
Bruno's work beautifully captures scenes from modern domestic life. In 'Portrait de Juno et Lloyd' the subject relaxes at home in a richly decorated environment with a small dog curled up at his feet. His more recent work also addresses this unprecedented time, as we restrict our activities and stay home. His painting 'Breathe' shows a figure by an idyllic Hockney-inspired swimming pool – yet a face mask lying on a nearby sun lounger reminds us of current realities.
Bruno explains his work "my portraits are like tableaux vivants: they're not scenes from everyday life but are inspired by it. They are landscapes of my mood when I painted them. Often, a figure is a starting point. Patterns and juxtapositions appear almost organically. Or I have something in mind already and it happens to fit."
Bruno's work was previously featured in the group show "New Nudes" at Craven Contemporary. More work by Bruno and the new show can be viewed online at Craven Contemporary's Artnet site:
https://www.artnet.com/galleries/craven-contemporary/bruno-leydet
Craven Contemporary wishes you happy and healthy holidays and looks forward to seeing you in the gallery soon.
CRAVEN CONTEMPORARY LLC
4 Fulling Lane
Kent, CT 06757
EMAIL: cravencontemporary@gmail.com
TELEPHONE: (646) 355-8142
INSTAGRAM: @cravencontemporary
WEBSITE: http://www.artnet.com/galleries/craven-contemporary/artworks