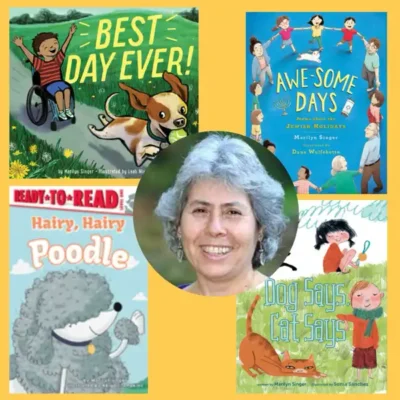 November 25, 2023
Book Signing
The Hickory Stick Bookshop is delighted to welcome award winning author and poet Marilyn Singer who will be here to sign a selection of her children's books on Small Business Saturday, November 25th at 2 pm.
The books to be featured at the book signing are "Awe-Some Days – Poems About the Jewish Holidays", "Best Day Ever", "Dog Says, Cat Says" and "Hairy Hairy Poodle".
ABOUT THE AUTHOR
Winner of the 2015 NCTE Award for Excellence in Poetry, Marilyn Singer was born in the Bronx (New York City) and lived most of her early life in N. Massapequa (Long Island), NY. She attended Queens College, City University of New York, from which she received a B.A. in English, and for her junior year, Reading University, England. She holds an M.A. in Communications from New York University.
In 1974, after teaching English in New York City high schools for several years, she began to write – initially film notes, catalogues, teacher's guides, and film strips. Then, one day, when she was sitting in the Brooklyn Botanic Garden, she penned a story featuring talking insect characters she'd made up when she was eight. Encouraged by the responses she got, she wrote more stories, and in 1976, her first book, The Dog Who Insisted He Wasn't, was published by E.P. Dutton & Co.
Since then, Marilyn has published more than one hundred books for children and young adults. Her genres are many and varied, including realistic novels, fantasies, mysteries, short stories, non-fiction, fairy tales, picture books, and poetry. She likes writing many different kinds of books because it's challenging and it keeps her from getting bored.
Marilyn currently divides her time between Brooklyn, NY and Washington, CT with her husband Steve; their standard poodle, Bizzy, their cat, Benito, and two collared doves named Jubilee and Holiday. Her interests include ballroom/Latin dancing, dog training, reading, hiking, birdwatching, gardening, and going to the theatre. She's also a major Star Trek fan.
PRAISE FOR THE BOOKS
"Dog Says, Cat Says" – Singer's rhyming text faithfully describes an ordinary day in the life of furry siblings and their humans . . . Sánchez's pencil drawings, colored using Photoshop, heighten the humor and mesh nicely with the text. A satisfying read for dogs, cats, AND their young humans. — Kirkus
"Awe-Some Days" – Presented from a child's point of view, Singer's short, evocative poems smoothly convey details of each holiday's activities and significance, along with personal reflections . . . A poetic invitation for all to learn more about Jewish holidays and observations. — Booklist
This event is free and open to the public. If you are unable to attend this event, you may reserve signed copies of Marilyn's books by calling The Hickory Stick Bookshop at (860) 868 0525, or shop our website 24/7 at www.hickorystickbookshop.com.
The Hickory Stick Bookshop
2 Green Hill Rd
Washington Depot
CT 06794
https://www.hickorystickbookshop.com/event/book-signing-marilyn-singer-0