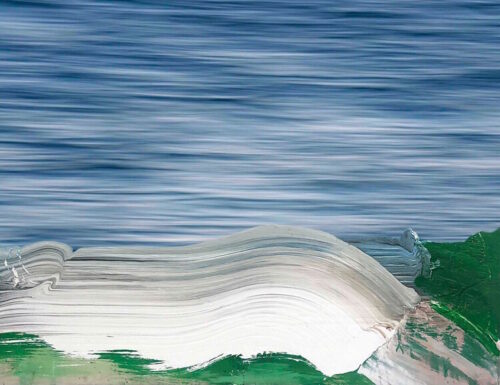 June 6 - July 11
Barbara Vaughn: Apart Together at KMR Arts
4:00 pm
KMR Arts is proud to present Barbara Vaughn: Apart Together, June 6- Jul 11, 2020. Please join us on the gallery lawn for an opening reception on June 6, 2020, 4-7pm.
Barbara Vaughn says:
"Apart Together" is a body of work created while sheltering-in-place this spring. The collective experience of being torn from our livelihoods, relationships and routines during the Covid crisis provided the impetus to incorporate the act of tearing into my artwork. Working with available materials at home – an archive of my photographic prints, basic cutting tools and my two hands, I began selectively and meticulously rending apart and assembling together portions of disparate images. The source materials included photographs of layered posters, advertisements and billboards in varying states of deterioration, disparate water images, and macro details of textured brushstrokes from paintings by Ed Clark. The resulting amalgamations portray  surreal unfamiliarity and reference the upheaval of the art world, but also offer hope for positive change from this cataclysm.