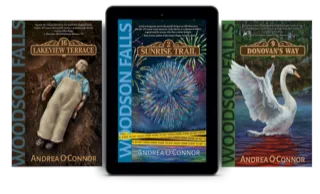 January 29, 2023
Andrea O'Connor : Author
Please join us as we welcome Andrea O'Connor to present the release of the 3rd book in the Woodson Falls mystery series.
Author talk / Book signing event on Sunday January 29th at 1:00pm
Having received a library card before she began kindergarten (requiring her cursive signature), Andrea began her writing career at the age of five with a short story describing the seasons. Her next endeavor, at the age of nine, was a novella featuring Christine O'Leary. So began Andrea's long love affair with the written word.
Singularly focused on a nursing career, Andrea continued to write for pleasure throughout high school and college. After earning a master's degree to teach nursing, she was offered a position as a nurse editor with a major nursing publisher where she honed her writing skills through editing others' works.
Intrigued by the intersect of medical ethics and the law, Andrea attended law school and, upon her admission to the Connecticut and New York bars, established a solo practice in estate planning, probate and elder law.
Andrea had long considered writing a mystery series based on some of her legal cases. The opportunity to do so came when her husband John's Parkinson's disease progressed to the point where he was unable to engage in his usual active lifestyle. They began their collaboration on the first book in the Gaby Quinn Mystery series, Woodson Falls: 16 Lakeview Terrace, in response to John's longing to do something.
JCC in Sherman
9 Route 39S
Sherman, CT 06784
email: [email protected]
https://www.jccinsherman.org/upcomingevents