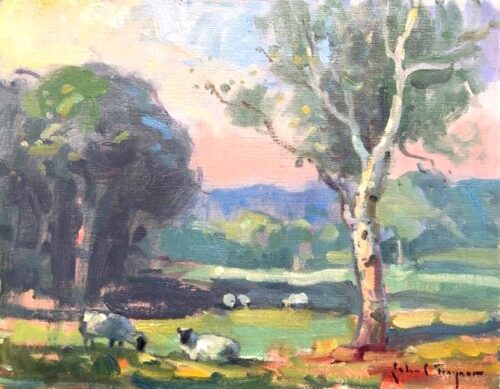 John Traynor, Country Sheep, Oil Painting
June 19, 2020
A New Twist on an Old Auction:
Own a piece of American History
Litchfield and Capsule Auctions are excited to announce their collaboration with Salmagundi, the historic Art Club founded in 1871 and a vital Greenwich Village resource dedicated to traditional art.
The Salmagundi club is the home to many of the greatest names in American art history, including Thomas Moran, William Merritt Chase, Louis Comfort Tiffany, Chaim Gross, N.C. Wyeth, Guy Wiggins and Norman Rockwell.  Hosting exhibitions, art classes and educational programs, the club also commissions new works and supports emerging artists from an elegant brownstone home at 47 Fifth Avenue. It is supported by over 1,000 members and is the oldest continuous benefit art auction in New York, with sales held in the spring and fall.
This year the June 19 spring auction event will take a new direction. For the first time a selection of 150 historic members' works, carefully selected from the Salmagundi archive collection, will be offered alongside modern work, with the auction held in collaboration with both Capsule and Litchfield Auctions.
Among the 'experiences' offered will be the opportunity to commission a Salmagundian to paint your portrait, architectural or landscape scene, and a unique dinner invitation from legendary New York painter and club member Guy A. Wiggins. The auctioneer will be Nick Dawes of Heritage Auctions, who is also Chairman and CEO of Salmagundi and familiar to many through 25 years as an expert appraiser on PBS 'Antiques Roadshow'.
This historic sale includes works by a variety of artists, including Del-Bourree Bach, Jay Brooks, Antonio Cirino, Tony D'Amico Carol Gromer, Christine Ivers, Lou Lalli, Vladimir Lazarev, Richard Lithgow, Jane Manco, Joseph Margulies, Rick Perez, Edmond Rochat, Richard Rosenblatt, Roger Rossi, John Traynor, Michael Yamaoka, and many others.
Live online bidding will be hosted on Capsule's bidding platform, CapsuleLive, Friday, June 19 beginning at 4pm EST.  For more information please contact Capsule Auctions at (212) 353-2277 or info@capsuleauctions.com