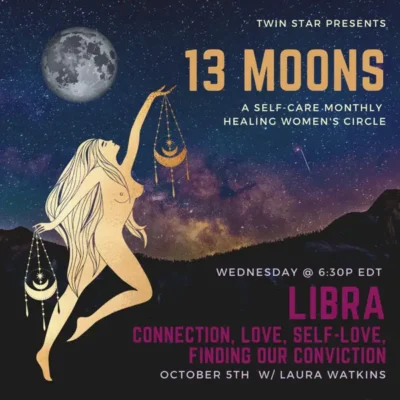 October 5, 2022
13 Moons: A Self-Care Monthly Women's Healing Circle – Libra
Since the dawn of our existence the feminine collective have been gathering together as daughters, sisters, mothers and as healers. Powerful stories have been shared, tears have been shed and many magical moments of healing, strength and love have occurred. It is in honor of this ancient tradition that the 13 Moons – A Women's Healing Circle was created over a decade ago.
This sacred healing circle will take place the first Wednesday evening of each month. Under these 13 moons we will come together as women and healers. Each moon we will explore a variety of topics including: sacred healing, monthly self healing rituals and the wise woman tradition. We will also create rituals for honoring our moon cycle, birth, death, divorce and more and will focus on positive manifestations, cutting cords and fully explore our role as women, sisters and community healers. The circle will be a private and sacred group, open to women and those who identify as women. If you are interested in sharing in this experience and would like more information please send contact Bekah at [email protected]
During the 2022 cycle, each monthly theme will be aligned with the energy of the astrological Sun sign and the New Moon energies of the month. We will explore both the positive and the shadow qualities that each equally need to be witnessed and loved. We will do journey work and guided meditation, journaling, sharing, and talk about plant allies and practices that can support us as we make self-care a priority for the year.
64 Railroad St S
New Milford, CT 06776
https://www.twinstartribe.com/events/13-moons-libra