On view at the Tremaine Gallery at Hotchkiss School is Becoming: 30 Hotchkiss Artists featuring works by alumni that reflect the perpetual state of becoming. 
Hotchkiss School was founded by Maria Harrison Bissell Hotchkiss in 1892. She was encouraged by Yale President Timothy Dwight to establish the private boarding school for young men as their preparation for entering Yale. It is doubtful that art classes were an option 125 years ago. Today, Hotchkiss is a coeducational school with students from diverse backgrounds that offers a wide array of classical and progressive subjects, including a full complement of studio and art history classes. As part of the 125th anniversary year, the school's museum-quality Tremaine Gallery presents the exhibition Becoming: 30 Hotchkiss Artists, where one can find impressive evidence that the school has inspired many of its alumni to become serious, acclaimed artists.
Becoming was co-curated by Joan Baldwin, Curator of Special Collections and Terri Moore, Co-Director of Tremaine Gallery. The title is meant to suggest that being an artist is a perpetual state of becoming. It also alludes to the students, who, as any parent (or teacher) of a teenager knows, are actively becoming each and every day. The thirty artists selected are graduates of the classes spanning 1932 to 2009. Many are well established, and all are award-winning and accomplished. The thirty-four works celebrate the school, the gallery, and the artists, all evolving presences. Though it is not feasible to address all of the thirty-four works here, the selection that follows is meant to convey the quality of the exhibition as a whole.
One of the most traditional works in the exhibition is also one of the most surprising. Rackstraw Downes, '58 was an exchange student from England. Known for his panoramic views of often overlooked urban vistas like highway underpasses, industrial buildings, and vacant lots, North Searmont, a small, verdant landscape, is uncommonly intimate and dense with painterly intonations. Though the site is Downes' adopted state of Maine, the lush scene looks a lot like northwest Connecticut.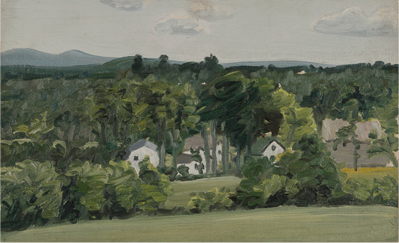 Where Downes luxuriates in his laden brush, Fog, Lake Wonoscopomac, a pastel and pencil on paper by Spencer Finch, '80, is an ethereal whisper. Inspired by Whistler's lithographs of fog on the Thames, Finch says, "What I like about fog is that it is about both seeing and not seeing simultaneously." Though the drawing seems to be monochromatic, it is actually rich with layers of greys, whites and other subtle hues. One of a series of fog-themed works, this piece requires extended contemplation to fully appreciate the artist's tender rendering.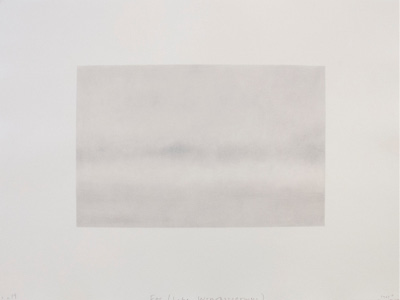 Two well-known Connecticut abstractionists are represented. Elizabeth Gourlay, '79, offers Kantele, a painting on canvas made of graphite, and flashe – a vinyl pigment. A study of line and pattern, the carpet-like surface comprises carefully worked and thoughtfully applied layers. Each element is a response to another, a meditative process Gourlay likens to musical composition. A note of color, or a structural bass tone is applied in correspondence to other parts of the painting as she works. Gourlay allows the process to guide her to its natural conclusion – a sublimely articulated contemplation of form and color.
Huygen's Principle 1, by Ann Conrad, '81 derives from landscape. The artist has reduced the blues, lavenders and pinks, presumably seen at the water's edge, to essential shapes that move forward and recede on the canvas like a syncopated dance. The title refers to the 17th century Dutch scientist, Christiaan Huygen who devised a theory for the propagation of waves that subsequently led to our understanding of light diffraction. Conrad's painting brings Huygen's theory to life, with light bouncing from one square of color to another, just as the sun flashes on the sea's surface.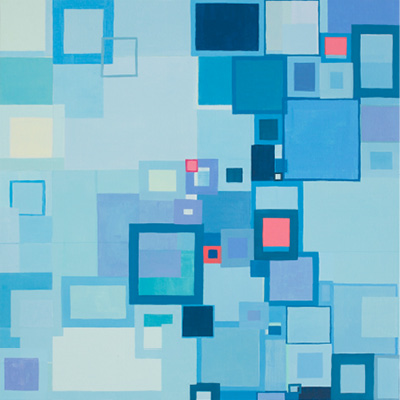 Robin Lowe, '78, has had an impressive career as both a gallerist and an artist. In Impressionist Road 1, an oil on linen painting, tonalist blocks of muted color straddle a stark, empty, two lane road at the center of the the canvas. This is a scene familiar to many Connecticutians – the dappled light in the mid-ground leading to the last patch of sun ahead. It matters not if the road is being walked or driven, the directional yellow lines tell us that time is passing, compelling us ever forward.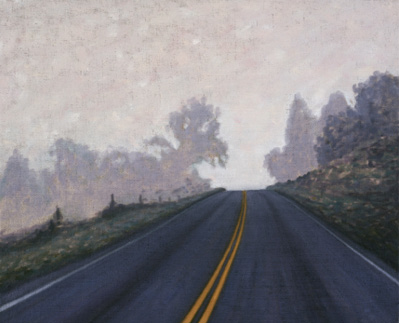 Yujin Lee, 05, tackles the urgent issues of our post-colonial world. Her stated intention is to "insert 'othered' bodies into the canon of art history without reduction, but with the dignity of life's complexities". The charcoal drawing, I'm a Liberal is confrontational in its large scale and the subject's direct gaze. The female subject sits crossed-legged, her hands upraised in coded gestures. Her tattooed ankle, and the overlaid Korean text that merges with the English title tell us that the young woman will not be categorized nor cowed, that she demands an egalitarian response. The title mocks liberal presumptions – the image is anything but the polite, measured language of the "liberal elite".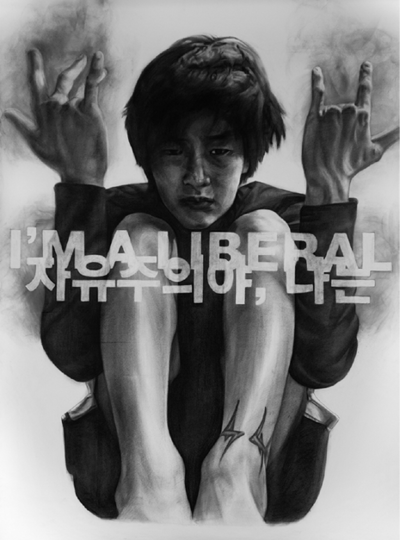 Other alumni artists included in Becoming are William Kienbusch, Morgan Bulkeley, T. Klacsmann, Lauren Silberman, Tony Vevers, Jeff Perrott, Sam Tierney, Thaddeaus Beal, Lindsay McCrum, Alex Beard, Clay Kinzler, Charles D. Noyes, Sheridan Lord, Rebecca Stebbins, Abigail Doan in collaboration with Bruce Honeycutt, Janet Silveira, Jimmy Spear, Mark Mennin, John Mosler, Alice Dodge, Claire Emery, Christopher K. Ko, and Luke Gray.  Imagine what Mrs. Hotchkiss would think if she could see the school she founded today!
*********
Recently, artist in residence and master printmaker Anthony Kirk collaborated with artists Ann Conrad and Elizabeth Gourlay to create 2 limited edition lithographs. These prints will be offered for sale. The proceeds will be used to acquire new prints for the Hotchkiss Archive Special Collection, and seniors in the art program will attend the International Fine Print Dealers Association fair next November in New York City. There they will select works to be considered for acquisition, and vote on a work to be added to the Archive. For additional information about this special project, contact Bradley Faus, Program Director of Art at Hotchkiss School.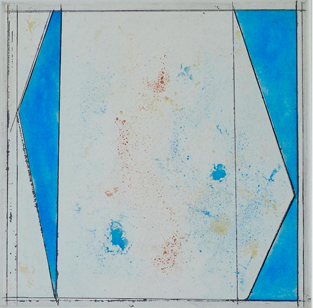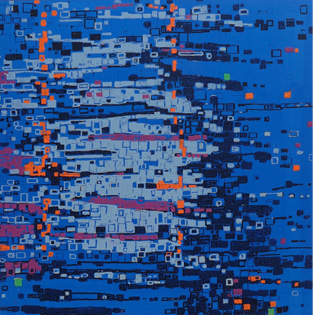 The exhibition Becoming: 30 Hotchkiss Artists runs through June 18, 2017.
The Tremaine Gallery is open Monday through Saturday, 10 am to 4 pm, and Sunday, noon to 4 pm.
Tremaine Gallery
at the Hotchkiss School
11 Interlaken Road
Lakeville
860.435.3663
hotchkiss.org/arts